OAK GROVE COMMUNICATIONS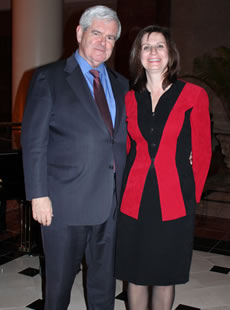 The Southeast's Premier Media Relations
and Communications Firm
Oak Grove Communications is a full-service media relations and communications firm that has represented some of the most noted figures in government, politics, business, think tanks, non-profits and opinion leaders over the past two decades.
Led by Principal Susan L. Meyers, a former journalist, Oak Grove Communications has promoted highly-effective messaging strategies representing Newt Gingrich's healthcare think tank in its effort to combat the ineffectiveness of Obamacare.
We have strategically moved public opinion and influenced policy makers on issues including school choice, healthcare reform, business development, foster care, natural gas and tax policy.
Whether engaging traditional media or generating what is shared on digital platforms, Oak Grove has created prestigious results in recent months including:
Stories about a law that denied Georgia cancer patients access to the state's newest specialty cancer hospital. The effort contributed to Gov. Brian Kemp and Lt. Gov. Geoff Duncan supporting legislation which opened Cancer Treatment Centers of America in Atlanta to any Georgia cancer patient.
National and international media coverage on the marketing of an Atlanta suburb in its effort to win Amazon's second global headquarters by potentially renaming its town Amazon, Ga. with an offer for Jeff Bezos to be its next honorary mayor.
National and regional awareness effort about the helpless victims of the opioid crisis - opioid orphans or children now in foster care and the need for more foster parents. First Lady Melanie Trump embraced the plight of these children.
A communications strategy that educated lawmakers, the medical community and the public about defensive medicine and its impact on consumers' healthcare costs. Lawmakers in six states took action to introduce bills to repeal traditional medical malpractice laws with a no-fault patients' compensation system.
Learn how good PR and the right public affairs campaign can get the results you need whether in Washington, your state or your local community. Having the correct message and conveying it to the most important players can make the difference in your future. To learn more, contact Susan Meyers at Oak Grove Communications at Susan@oakgrovepr.com